Revelle
Seek more fun in the sun all summer long! By combining the strength of steel and the aesthetics of injection-molded resin, the Hybrid Series gives you the best of both worlds. Thanks to advanced engineering, superior materials and renowned durability, above ground pools reach new heights! The hybrid structure will ensure that you'll get the most out of your pool all summer long!
REVELLE wall pattern uniquely designed to synchronize with the Chocolate & Champagne color scheme, giving nuance and life to your backyard decor.
Two piece, multi-toned resin ledge covers come in a rich Chocolate color that perfectly conforms to the top ledges, giving a flawless look.
Champagne steel uprights in a beautiful metallic finish are complemented with the rich Chocolate resin foot covers.
Curved top ledges offer a perfect look and outstanding rigidity.
Durable and supportive, the uprights are coated with a protective finish.
Bottom rails come with exterior shields giving them strength and style.
Specs
Primary Specs
Color
Metallic Champagne & Chocolate Brown
Round Height
52"
Round Sizes
15' | 18' | 21' | 24' | 27' | 30' | 33'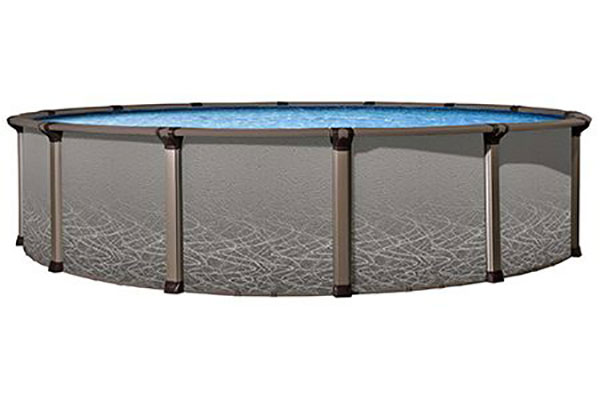 Features
7-inch Cacao colored injection-molded resin top ledge
Metallic Champagne steel uprights
Chocolate colored resin ledge & foot covers
Injection-molded resin bottom system to protect from the elements
Interlocking exclusive support system
Revelle wall pattern with protective top Kote
Heavy corrugated wall with superior coatings
Stainless steel hardware
Exclusive Tru-Kote bonding system
Easy to assemble